Review: The Red Scrolls of Magic by Cassandra Clare & Wesley Chu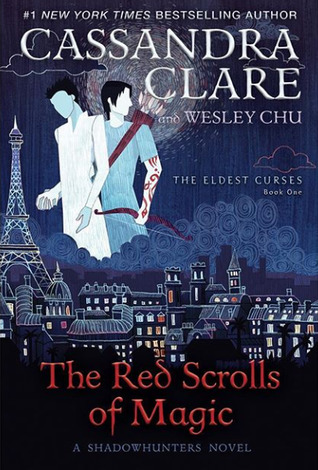 Shadowhunter fans rejoice. Magnus Bane, the four hundred year old and slightly eccentric warlock with a heart of gold finally has a series of his own. Set immediately after the events in the third novel in the Mortal Instruments series, The Red Scrolls of Magic tells the story of Magnus and his boyfriend, Shadowhunter Alec Lockwood as they navigate their way through the early days of their relationship, whilst fighting some pretty dark forces. And the best bit? This is book one of a trilogy, so there is plenty more of Magnus and Alec's adventures to come.
The novel opens with the pair taking a much needed holiday in Paris. An otherwise romantic hot air balloon ride is cut short, however, when Alec spies some heavy duty demonic activity in the area. And things take an unexpected turn for the worse when they discover that the activity is due to a cult that Magnus helped to form many years ago, as a joke. Only now the cultists aren't happy to follow Magnus' teachings of goodwill and something very, very sinister is afoot.
This was a fun, page-turner that never takes itself too seriously. The relationship between Alec and Magnus is handled respectfully by the authors and there are some interesting tie ins with the events and characters from The Mortal Instruments series. This one is a little bit shorter than some of the other Shadowhunter books, and, consequently there isn't quite as much world building, or as many fight scenes. And nor is it quite as serious, but who need to take life seriously all the time, anyway?
Recommended.
Thank you to Simon and Schuster Australia for my reading copy.