Review: The Fearless Defenders: The Most Fabulous Fighting Team of All by Cullen Bunn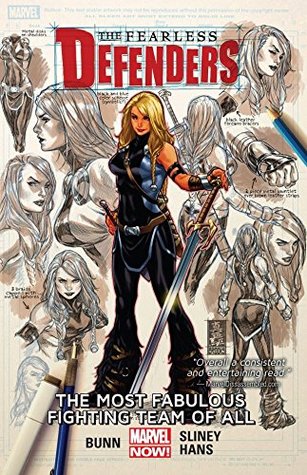 I can vaguely remember this short lived comic series from about ten years ago that stars a strong female cast. When I found a copy of this graphic novel which collected some of their adventures on a bargain shelf at QBD, I could not resist buying it. (I'll be honest. I mistook it for a different series and I'm so dumb that I didn't realise until after I'd got the book home.)
Unfortunately, I did myself a disservice. First of all, this was book two. Second, while the concept was great, I soon realised that the comics featured a few too many characters, and I felt that I never really got the chance to get to know any of them, most of whom were new to me. And some of whom weren't all that interesting, though I imagine that much of the character building was done early on in the series. Also, it's filled with characters that are more recognisable to hardcore Marvel fans, rather than readers like me.
At times, there was a little bit too much going on and I had difficulty reading it. Still, I liked the whole girl power vibe that the comic had going on.
Overall, this was one of those comics that just isn't for me.