Review: Wild Wood by Posie Graeme-Evans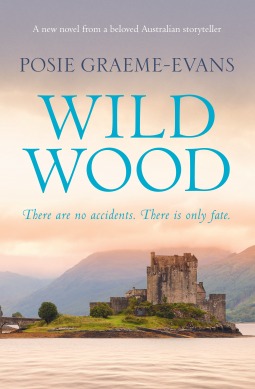 The Scottish borders is the ideal backdrop for Posie Graeme-Evans sixth novel Wild Wood, which contains a beautiful blend of history and myth. The story opens in June 1981 (in the weeks just prior to Prince Charles wedding to Diana Spencer,) with Jesse Marley, a young, Australian woman who has just discovered that she is adopted and has travelled to Scotland to discover more about her birth. Meanwhile, another narrative tells of the same place in a different time in history. Bayard Dieudonne is a young man fighting for both family honour and to understand his new sister-in-law, a young mute woman who is despised by many. As Bayard's story goes deeper and deeper, we learn more about the history and a haunting local legend--which may just be brought to life right in front of Bayard's eyes.
A twist of fate, in the form of a motorcycle accident, leaves Jesse in hospital and with some strange new abilities--such as her being able to draw with her left hand people and places that she has never seen before. Neurologist Rory Brandon is intrigued, particularly when Jesse starts drawing pictures of a castle that he knows quite well. But what does the castle, and a certain local legend have to do with Jesse?
I thoroughly enjoyed reading Wild Wood from start to finish and watching as the duel narratives of Bayard and Jesse unfolded. Poor Bayard has his hands full with defending his family homestead (and putting up with an idiotic older brother,) while the mystery of Jesse's behaviour is quite interesting. Is she going insane? Is there something deeper at work? And does Alicia, the owner of the castle have the right to be suspicious?

It was interesting to see how the duel stories connected--and they do eventually in quite a pleasing way. I loved seeing the history of The Borders being brought to life in such way and blended with a legend that was totally appropriate to the story. Maybe it is my family history--my ancestors are from the Borders--but I felt a real connection, or perhaps a pull, toward this story. I think that the author has a real knack for slowly drawing readers in and causing them to feel very involved with the story.
I highly recommend this one to readers who want something historical ... with a twist.