Review: Hello From the Gillespies by Monica McInerney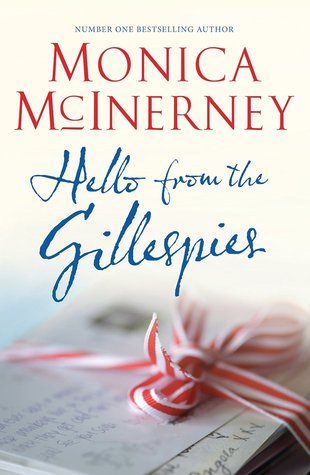 Set against the backdrop of South Australia's Flinders Rangers, Hello From the Gillespies is an entertaining story about a family who finds themselves pulling together in the most unexpected of ways when a terrible event threatens to tear them apart.
The novel opens with family matriarch Angela, as she sits down to compose her annual Christmas letter to her family and friends. This tradition is now in its thirty third year and has long since been transferred from a note being included in a Christmas card in the post to email. At her computer, Angela begins to compose her usual letter--a cherry embellishment of family life on Errigal Station and the many accomplishments of her husband and three children. This year, however, something takes over and Angela finds herself telling the truth--about her concerns about Errigal (which is badly in debt,) that her husband may be having an affair with a woman that he met on the internet, that her two older daughters are having major career crises and her that her younger daughter is badly in debt and has returned home, and that her ten year old son has an imaginary friend. At the end, she makes the notation that she wishes that she had married her old boyfriend from England, Will. And then, the email is sent out and the Gillespies find themselves coping with the fallout ...
Hello From the Gillespies kept me entertained as the author introduced each member of the family and detailed each of the their problems. The first half of the novel examines the fallout from the letter, while the second shows the Gillespie children and their dad all pulling together after a terrible accident which has some rather surprising consequences for the family. As is the case with many of Monica McInerney's books, all of the characters are likeable and there is a strong focus on family life. (That said, the two older daughters annoyed me somewhat and I felt that they were often a little hard on their younger sister.) Still, there is a lot to be enjoyed and I read this one in the space of a few days, despite its length.
A real winner for anyone wanting to find themselves caught up in a tale of family life with a few plot twists.
Thank you to Penguin Books Australia and The Reading Room for my review copy.