Review: Newt's Emerald by Garth Nix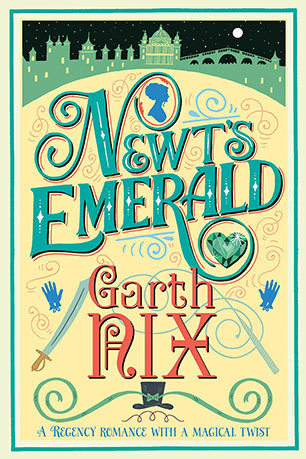 Newt's Emerald by Australian author, Garth Nix, is a clever tribute to those old Georgette Heyer regency romances ... with a very magical twist. Lady Truthful Newington has just come of age when tragedy strikes--the Newington Emerald has been stolen! To get it back, Truthful comes up with a clever ploy. Whilst in London for her first 'season' she will carry a disguise--that of a man, so that she can look search for the emerald. Lady Truthful soon finds herself balancing duel roles and in all sorts of dangerous situations. Can she rescue the emerald back from the clutches of an evil sorceress and save all of England? And more importantly, is there romance in the air?
Newt's Emerald can be summed up in a couple of words, terrific fun. There may not be a lot of depth to this story, but there does not need to be, instead it is better just to let the story carry you away. There are numerous convenient plot twists, dastardly villains, banter between the heroine and her love interest and a fitting end. And the whole thing works, simply because it never takes itself too seriously, nor makes fun of the genre.