Review: Me Being Me is Exactly as Insane as You Being You by Todd Hasak-Lowy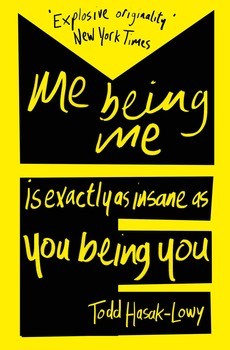 As well as being a contender for the novel with the longest title that I have ever read, Me Being Me is Exactly as Insane as You Being You is probably one of the stranger YA novels that I have read this year. Told completely in lists, we learn the story of Darren Jacobs, a young man who is, well, having a little bit of a rough time. His parents have divorced, his brother has left for college, his best mate has just moved away and then he is hit with a bombshell. His dad is gay. Darren loves his dad and wants for his dad to be happy, but he is also at an awkward age, where his childhood is not quite over yet and the adult world, and the way that adults handle their relationships, seems quite frightening, strange and occasionally stupid. Enter an unexpected road trip with Zoey, a fascinating but eccentric girl from his school, and Darren soon finds himself discovering a newfound sense of independence and self-acceptance.
This one was enjoyable enough and funny in places, though I did feel that it dragged on for far longer than it needed to. The list format made the novel quite easy to read, and I think that many readers, especially teenage boys, will enjoy the format and the self-depreciating humour. From the perspective of an adult reader, it is a good reminder of how young people view the world and how eccentric adult behaviour can sometimes appear to teenagers. It also raises the issue of how, sometimes, we can know very little about the people around us, even when we love them and care for them, just as sometimes we may have trouble knowing and understanding ourselves.
I think this one will be enjoyed by teenagers, male and female, who are interested in reading something that goes a bit deeper and that raises some interesting questions.
I also love the clever black and yellow cover.
Thank you to Simon and Schuster Australia and Netgalley for my ARC.
This book was read as part of the Eclectic Reader Challenge 2015
Category: Epistolary Fiction
Progress 5/12