Review: Lola and the Boy Next Door by Stephanie Perkins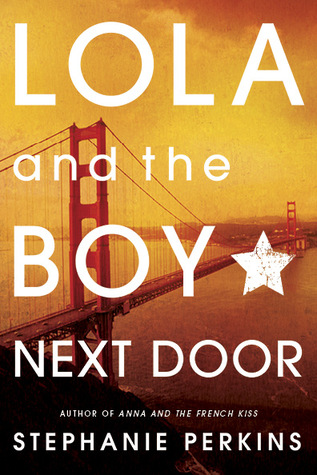 Penned by the author of the sweet and thoroughly likeable Anna and the French Kiss, Lola and the Boy Next Door trades Paris for San Francisco, and Anna (who appears as a minor character,) takes a backseat to Lola a colourful individual with a passion for fashion design and a deep resentment of the Bell twins, Cricket (a wacky, budding inventor who broke her heart,) and the manipulative, professional figure skater Calliope. On the whole, Lola's life is pretty good--she has been raised in a loving family unit by her adoptive fathers and she has found love with the older Max, a budding rock star. But when Cricket comes crashing back in to Lola's life she finds herself asking a lot of questions about love and loyalty.
Although the settings and themes were a bit different from the first book in the series, I found myself thoroughly enjoying this one. I quite enjoyed the domestic, family side of the story in particular, the fact that Lola does not come from a family unit that unit that many would consider typical. (She was been adopted by her uncle and his partner, as her mother was unable to care for her properly.) The surprise appearance of Lola's deadbeat mother, and their eventual reconciliation (of sorts) tugs at the heartstrings. And then, of course, there is the love triangle between the entirely unsuitable and controlling Max, and Cricket who had previously broken Lola's heart but seems to be a basically okay kind of guy.
This one is a lot of fun and contains a lot of YA level romance and emotional drama and is short enough to be read in the space of an afternoon. Recommended.