Review: Death Comes to Pemberley by P.D. James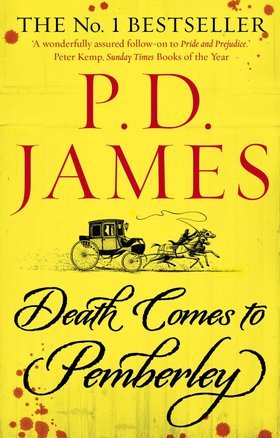 Pemberley, the great manor owned by Mr Darcy becomes home to a murder in Death Comes to Pemberley, author P.D James cleverly plotted continuation of Jane Austen's Pride and Prejudice. Six years have passed since the Fitzwilliam Darcy married Elizabeth Bennett and the marriage has been a success. The pair are the parents of two boys and, each year host a ball at Pemberley in honour of the late Late Anne. This year, however, things take a strange twist when on the eve of the ball, Elizabeth's wayward sister Lydia, arrives uninvited and announces that a murder has just taken place. Is Mr Wickham guilty of murder, or can Mr Darcy prove that his old rival is innocent?
Through crime and murder are not really the subject of Jane Austen novels, this one was highly enjoyable and it is not surprise why, considering the author. P.D. James combines her skill of writing tightly written crime novels with an exceptional amount of research and understanding of Pride and Prejudice--it's era, the characters and the setting. (Austen fans will also notice that Persuasion cleverly mentioned and weaved into the plot.) Obviously, and is to be expected, both authors have very different writing styles and I appreciate the fact that James kept her own voice and told the story her own way, instead of parroting Austen's style of writing. I think James truly does love Austen's work and the worlds she created.
Although a little slow in places, this one is most enjoyable and is quite unpredictable at times. The answer to the mystery was perhaps not as enjoyable as the journey, and the opportunity to read a brilliant authors thoughts on who the characters of Pride and Prejudice would become in later years. My only complaint is that the story was a little too easy on the wicked Mr Wickham at times. Highly recommended.