Review: Queen of Air and Darkness by Cassandra Clare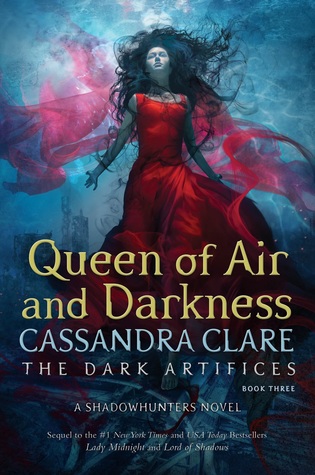 Book three of The Dark Artifices Series starts out on a sombre note, following the death of a beloved character and member of the Blackthorn family. A death must be avenged, but that may prove difficult, given the new and hostile Inquisitor who wants Emma and Julian out of the way. And, of course, the parabati curse and their forbidden love is causing it's own share of drama. Meanwhile, back at the Los Angeles Institute, Ty is dabbling in dark magic in a bid to bring his sister back. And then there is the disease that is slowly destroying every warlock, including Magnus Bane.
Suffice to say, there is going to be a whole lot of drama, darkness, magic, Seelie Court shenanigans and sacrifice before this one ends.
I found Queen of Air and Darkness to be an entertaining read, though the first two hundred pages or so are a little slow going, and the novel as a whole feels overlong. The subplot featuring Ty and Kit probably would have made a solid, single volume novel of its own. That said, I love delving into the world of the Shadowhunters and author Cassandra Clare treats her characters and readers with much love as she keeps us updated with the many unusual characters and situations that make up this series. There are some surprisingly diverse themes, ones that don't feel forced, though they certainly are unusual for a YA novel, such as the relationship between Mark, Cristina and Kieran. (Kudos to the author for handling such a difficult theme respectfully.) Similarly, characters like Diana and Ty are handled quite well.
At a whopping 880 pages, this one isn't a short read, however, Shadowhunter fans are in for a treat.
Recommended.
Thank you to Simon and Schuster Australia for my reading copy.