Review: Dumplin' by Julie Murphy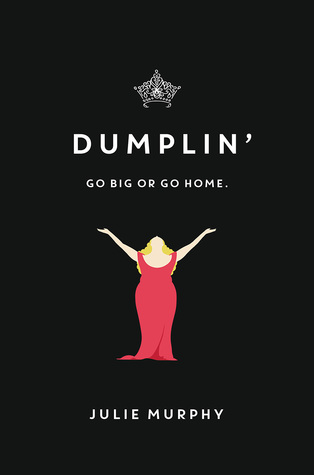 Willowdean Dickson is perfectly comfortable in her own skin, despite being of the slightly larger persuasion. That said, a few things have happened in her life recently that have shaken her self-confidence. First, her beloved aunt Lucy passed away. She and her best friend Ellen are slowly drifting apart. And there's a very attractive boy at her work who seems to like her, but doesn't seem to want to be her boyfriend. Things need to change. And to kick off that change, Willowdean is going to enter the local beauty pageant. Soon she--and a group of very unlikely contenders--are on their way to prove that they are just as worthy of the crown as anyone.
This was an entertaining read, written by the author of the brilliant Ramona Blue. Willowdean is portrayed as a very normal teenager who has her own doubts, fears and misconceptions of others that often influence her behaviour and not always for the better. In other words, she's human and that made her very easy to identify with. I found the Dolly Parton influence quite endearing as well. The various subplots, featuring Bo and Ellen were handled quite well. What was really pleasing though is that the book doesn't make fun of beauty pageants or pageant queens--instead the moral is that everyone has the right to enter them and to give it their best shot.
Feel good YA lit at its best.
Recommended.
This book was read as part of the #Dymocks52 challenge