Review: Without Merit by Colleen Hoover
Note: I did not enjoy this novel. If you are the author, her agent or a diehard fan, or for whatever reason you do not wish to read a book review that is almost wholly negative, then you may prefer to stop reading now.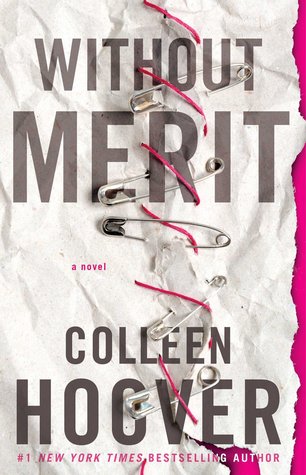 Without Merit the ten billionth offering from prolific American author Colleen Hoover certainly lives up to its name. It is a novel with very few, if any redeeming features. Set in a small American town, this one is the story of a dysfunctional family told from the perspective of seventeen year old Merit who is suffering from a mental illness that goes undiagnosed until a key event leads her to doing a short self-assessment midway through the novel. And that, my friends, is about as much insight as the author gives to what life is like for someone living with a mental illness.
As for the Voss family, nothing about their life is normal. Dad has moved the family into a church that he purchased and redesigned just to annoy the local Lutheran Pastor who he hates with a passion for fairly petty reasons. Dad and his mistress (now his second wife) live upstairs with the four Voss kids, Mum lives downstairs in the basement and refuses to go outside. Merit's older brother is struggling with his sexuality, to the point where he makes a clumsy pass at his sister, and Merit has an identical twin who is seemingly perfect, except for her fetish for dating boys with terminal illnesses.
In other words, the whole thing is pretty fucked up.
The biggest problem of all with this novel is that it doesn't know what it is--a black comedy about an awful family, a meditation on being a teenager with depression, or a romantic comedy where two emotionally damaged people find one another. Consequently, it fails on all counts.
Since the release of Slammed in 2012, Hoover has made a name for herself writing emotionally charged romances about damaged people who find each other and get their happily ever after in spite of some huge hurdles. It's a cliche, but it works, which explains why the author can sometimes release two (or more) books each calendar year. Written in everyday English, perhaps one of the most pleasing elements of her books is that the characters come from ordinary and fairly relatable backgrounds. In 2016 the author veered off course with the release of It Ends With Us a novel featuring slightly older characters and had domestic violence as its main theme. Although it was different to her previous works, it worked because the author offered a sensitive and honest portrayal of why people stay in violent relationships. Without Merit lacks both sensitivity and honesty. Even the ending--where we discover that the Voss family may not be as terrible as Merit thought--has a glossed over feel to it, as though the author did not really understand how to resolve the conflicts and situation that she had created.
The writing itself is quite trashy. While this has worked quite well in some of Hoovers NA romances, here it comes across as tacky and cliched.
Recommended as the perfect gift for someone you cannot stand.