Review: Leah on the Offbeat by Becky Albertalli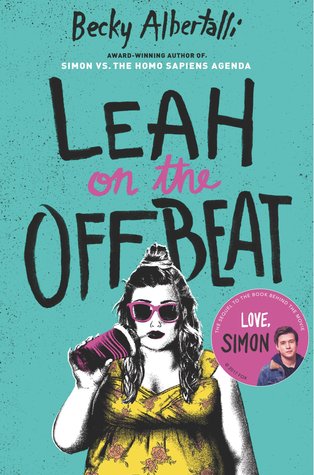 There was always one question left unanswered at the end of Simon vs the Homo Sapiens Agenda, why was Leah so angry at Abby? Did she really feel as misplaced by the new girl as she claimed? This sequel of sorts, with Leah in the front seat offers readers a surprising answer.
It's almost the end of senior year. Leah has kept a pretty big secret from her friends. She's bisexual. And she may be a little more interested in one of the members of their group than she wants to be. She does her best to ignore her feelings--after all, Abby has Nick and she's never given Leah any indication that she's interested in girls, though she does flirt with Leah from time to time, which, understandably, Leah finds annoying and confusing. Or is it possible that Abby may like Leah as more than a friend?
In many way this was a fairly relatable tale of first crushes and the uncertainty that one feels during their final year at high school. Each of Leah's friends has different experiences during this time, one misses out on a place at college, two decided to make their relationship work long distance, and another pair break up. And then two major characters get together, which no one, apart from the reader, saw coming.
This one doesn't quite pack the same punch as the author's previous two novels. Though amusing and a touch ironic, the ending is a bit too neat and easy for my liking. The author has such a knack for tackling diversity and teenage emotions that if anyone was going to write a story about a crush that doesn't work out with empathy and a whole lot of depth, it would be her. I also have a few questions about how bisexuality was represented in the book. If someone is bi, they're bi. They're not straight, they're not gay, they're bi. In this book, there was very little evidence to show that Leah was attracted to guys as well as girls.
That said, I don't have a problem with who Leah ended up with at the end and why. It's done well enough. Plus it's nice to see a character who always expects the worst and who sabotages herself regularly to get a happy ending.
I think sometimes I can build an author up so much my expectations can get unrealistic.
Anyway, fans of Simon vs the Homo Sapiens Agenda will probably enjoy this sequel.