Review: It Ends With Us by Colleen Hoover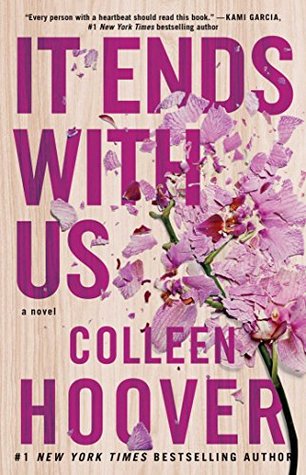 There is no denying that Colleen Hoover is one of the famous authors of her genre. Her novels have been loved by readers (and this blog,) for their young, working class characters, who triumph against against the odds. There is always a whole lot of heart, and sometimes the hero and heroine bond in an intentionally comical way, one that is pleasing to read. (Very few authors can pull of a line of dialogue such as, "I like you, you stupid fuck-face," the way Hoover can. It's trashy, it's hilarious and it fits in with the characters and their situations perfectly.) There is something human and vulnerable about her characters, who often experience the kind of romances that we all secretly wish we could have against a dramatic backdrop. It Ends With Us remains true to form while, paradoxically, taking a new and darker turn.
Told entirely from the perspective of Lily, it tells the story of a university graduate who has recently moved to Boston. Lily's life has not been an easy one. She grew up with a father who was as important and respected in his community as he was a violent bully behind closed doors. Lily was a sensitive kid with a big heart--she helped out a homeless boy from her school, and kept a 'journal' in which she wrote letters to a popular talk show host, describing her life, and how she eventually falls in love with the homeless Atlas--a love that is ultimately doomed.
The adult Lily is in disgrace after ruining her father's funeral with a cold hard dose of truth, and finds herself bonding with an attractive doctor that she meets by chance on an apartment rooftop. Chance and circumstance (including a missed chance with Atlas who is now running a successful restaurant in Boston,) led to a relationship between Lily and Ryle, but it soon becomes obvious that all is not as it seems, and that Ryle and Lily's father may have something in common.
I found this one dark, truthful and occasionally difficult to read. The author gets to the heart of the complexities of violent relationships--and the reason why a woman doesn't just leave him. Through the character of Atlas, the author also shows just how someone can support a woman who is going through the same thing as Lily, with patience and without judgement. Ryle himself is shown as a complex character, who regrets his actions, yet remains unable to control them.
Highly recommended.