Review: Young Widows Club by Alexandra Coutts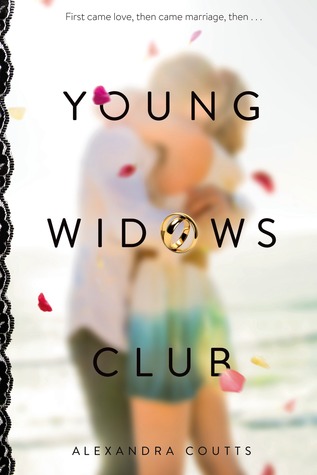 Young Widows Club is a story of a seventeen-year-old girl who find herself in an unusual situation. Tam Baird dropped out of school to marry her boyfriend Noah, who is an up and coming rock and roll star. Six weeks later, Noah is dead from heart failure and circumstance forced Tam to return to the home of her father and stepmother, so that she can start over. Caught in a world where she is no longer a child, but expected to return to school and to obey her parents, Tam struggles with grief and loneliness by finds answers in the most surprising of places.
Set almost entirely on an island--Martha's Vineyard, where the author also lives--this novel had a real sense of location, and paradoxically, isolation, given the protagonists unusual circumstances. There were a few themes that I think could have been fleshed out--for example Tam's Dad did not approve of her marriage (at the beginning of the novel it is noted that he was not there, later, it says explicitly that he did not approve of the situation,) but much of that is never discussed, though other aspects of this occasionally dysfunctional father-daughter relationship are handled with sensitivity by the author. I liked the open (or perhaps not,) ending with Colin, and what Tam did with her wedding ring--while hugely symbolic--annoyed me on a personal and highly subjective level, though it works well enough within the context of the story. The plot is quite unusual, and what I think was done really well, is that the character does not necessarily assimilate back into teenage life (i.e. she doesn't start dating a "cute" boy from school,) and she slowly begins to plan her future.
A good read, especially for anyone who finds themselves at a time in their life when they have to start over. Recommended.
This one is (currently) only available as an eBook in Australia.