Review: Attachments by Rainbow Rowell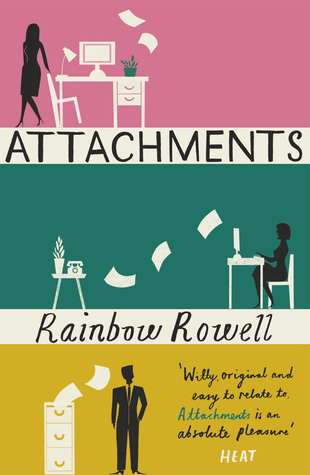 I am going to be brave and admit that, initially, when I read the first few sections of this book it did not really appeal to me. Because of the era that this book is set in--1999--it initially came across as very dated. Also, to me, Rainbow Rowell's books have been a bit hit and miss, I loved Fangirl, but I had difficulty relating to Landline and opted not to review the book on this blog after I finished it. I was worried that Attachments was going to follow the same path, but I was soon pleasantly surprised by how I soon got caught up in the story of Lincoln, a shy IT professional who works at a newspaper monitoring emails and the way that he admires Beth, a movie critic, who he has never spoken to, and who has her own relationship troubles with the irresponsible and (perhaps) unintentionally self-centred Chris.
Attachments proved itself to be a solid and surprising romance that centred around some fairly shy and introverted characters, whose problems proved easy to relate to. Lincoln was a bit of a late bloomer, and that certainly added to the charm of his character, and it was interesting when the reader finally gets to meet Beth, rather than just her emails, and see the differences between how she comes across as a person and how she comes across in her writing. This is a thoroughly likeable and realistic love story about two underdogs--Lincoln and Beth are neither rich nor conventionally beautiful--and nor are there any great dramatic moments and the story is better for it. The story also subtly captures some of the forgotten fears of the late 1990s, the Y2K bug and the paranoia over misuse of workplace email.
Recommended.