Review: A Little Something Different by Sandy Hall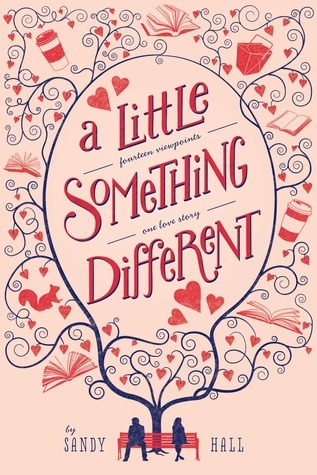 A Little Something Different is the debut novel from Sandy Hall and is, well, a little something different. Two creative writing students meet and fall in love. And we follow their journey not through their eyes, but through the eyes of a number of bystanders--their creative writing teacher, friends, a bus driver, the baristas at their local Starbucks and even a squirrel.
This one is sweet story and very light reading, most suitable for anyone who is looking for a clean, transitional novel that bridges the gap between YA and adult commercial fiction. It is also great for anyone looking for a lighthearted read. The only drawback is that despite the novel being relatively short (244 pages,) it did seem to drag a little bit in places ... though this is not entirely unlike real live, where two shy people can often take a long time to admit their attraction to one another (if at all).
I recommend this one for teenage readers, though I suspect that a few adult readers who are looking for clean, lighthearted entertainment will enjoy this one too.
Bonus question ... What lighthearted romance had you read and enjoyed recently? Feel free to tell me in the comments.