Review: Maybe Someday by Colleen Hoover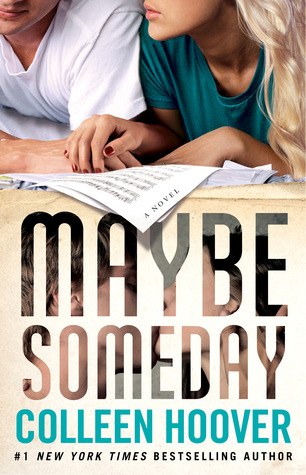 Maybe Someday was a book that, initially I felt very hesitant about. The first couple of chapters did not work as well for me as they could have. After reading a couple of poor reviews from trusted sources, I wondered if perhaps the author had reached her saturation point. After all, in the past couple of years, the best sellers have been coming through thick and fast for Colleen Hoover--Slammed and its sequels Point of Retreat and This Girl, followed by Hopeless, its sequel Losing Hope and another sort-of sequel to Hopeless, Finding Cinderella. And later in the year a new novel, Ugly Love is set for release. (I am unable to find any official confirmation for November Nine, a rumoured release.) It would not be at all surprising if the novels did start to have a manufactured, churned out feel to them.
But for one reason or another, I found myself wondering about the heroine, Sydney, and her potential new love interest, the mysterious Ryder and I found myself drawn back into their world. What I got was a very cleverly crafted and slow burning piece of escapism. Maybe Someday is a story of two people who meet in unlikely circumstances and battle with the issue of love versus personal responsibility and the needs of others. The dilemma faced by Ryder and Sydney--of falling in love with the person that you cannot have--felt very real to me.
The novel opens with Sydney, a young woman who is working her way through college. She shares a flat with her boyfriend's best friend and her evenings sitting on the balcony listening as one of her neighbours plays his guitar. That guitarist is Ryder and he has two surprising secrets. Revealing one of these secrets would also mean revealing a major plot spoiler, though I will say that it means the relationship between Sydney and Ryder takes a surprising turn and develops in a way that is quite unusual for a NA romance. It also adds a very pleasant dimension to the story.
Ryder's other secret is more pivotal to the early set-up of the book. Ryder has never spoken to Sydney, but he knows that her boyfriend, Hunter, is cheating on her with his best friend (and Sydney's housemate,) Tori. Eventually, after Hunter and Tori are called out on their behaviour, Sydney finds that she has nowhere to go ... Lucky then that Ryder just happens to be looking for a new housemate. Anyway, over the next couple of months, Ryder and Sydney's relationship slowly develops--it's lovely to see their emotions develop into song lyrics. There is a lot of sexual tension between the pair, which leads to a lot of heartbreak and questions about love versus loyalty, duty and promises already made. Ryder already has a girlfriend and rather than being portrayed as selfish and annoying, it's clear that his love, Maggie, is a good person. Maggie also has a chronic illness.
Most of the tension comes from Ryder and Sydney knowing that acting on their feelings would be wrong, and from Sydney knowing that she does not want to cause Maggie to be hurt in the same way that she was by Hunter and Tori. This creates a kind of sexual tension that is slow and difficult to resolve, but one that feels surprisingly realistic. I would have liked to have seen a bit more resolution between Sydney, Hunter and Tori, particularly toward the end of Sydney's story--it would have been interesting to see if her own experiences with Ryder had altered Sydney's perspective of what Hunter and Tori did and it may have added some greater depth to the ending and an understanding that sometimes, hurting the people we care about may, sadly, be an inevitable part of being human.
This one is a bit slower than Colleen Hoover's previous novels and though it may not be one to read if you're looking for a novel filled with intense sexual tension, it is a pleasing romantic tale.
PS Maggie gets her very own special Epilogue
on this website
. (I spy plans for a sequel.) Once you've read
Maybe Someday
, just enter the password and you'll get to discover what is in store for this lovely young woman.