Review: Beautiful Bastard by Christina Lauren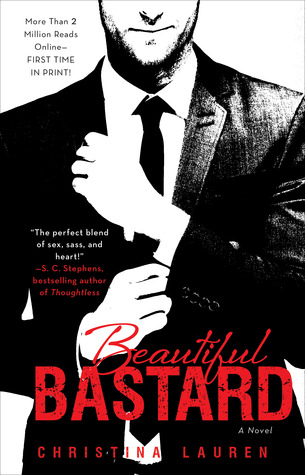 The opening pages make the plot of this book clear. It's about an ambitious young woman who has a crush on her sexy-but-mean-and-arrogant boss. And faster than the reader can shout, "Workplace sexual harassment!" Bennett has his wicked way with Chloe in the boardroom. And then he steals her panties. Oh and theres lots more hot and steamy sex, underwear thefts and somehow, despite an epic tiff somewhere toward the end the pair end up together and get their happily ever after.
And that's really it. The whole thing is void of character development, meaningful dialogue or any shades of realism. I was about to write the whole thing off completely when, thanks to the bio of the authors at the back of the book, I made a surprise discovery. Much like a certain other popular erotic romance, Beautiful Bastard had started life as Twilight fanfiction. (Because you know, there's nothing like taking a chaste romance that was written by a devout Mormon and intended for fourteen year olds, and dropping the characters into an adult setting with lots of steamy love scenes. One wonders what's next? The Erotic Adventures of Inspector Gadget: Sex Robot?) Anyway, this one wasn't for me, but it may appeal to anyone looking for a light and steamy read.