Review: Night Owls by Jenn Bennett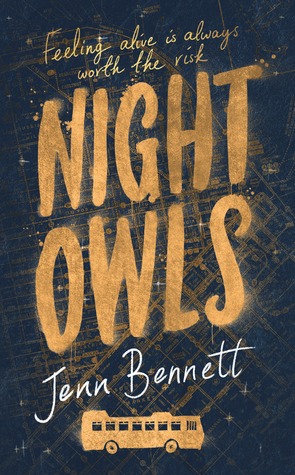 I was strangely fascinated by Night Owls from the moment I read the description and I am pleased to report that it is a story that does not disappoint. Beatrix is a nice girl and an aspiring artist who lives with her mother and brother who are struggling to make ends meet. One day Beatrix meets Jack on the Night Owl, the night bus that services San Francisco and discovers his secret--that he is one of the city's most notorious graffiti artists. Far from being a story of a good girl led astray, this is a story of how, through their shared love of art, Jack and Beatrix are able to help one another heal from their difficult and broken pasts.
I found Night Owls to be very cleverly plotted. We learn about Jack and his situation bit by bit and it is obvious that he is far from the juvenile delinquent that the police and media believe this mysterious artist to be. Beatrix also makes for an interesting protagonist, a young woman who is unduly, and unfairly, damaged by her parents divorce and one parents need for revenge. Jack's home situation is just as interesting--not only is it believable, but readers should make sure that they have some tissues on hand for when they discover the reason behind his graffiti.
Well written with believable characters, interesting situations and a good old fashioned dash of romance. Highly recommended.
Thank you to Simon and Schuster Australia for my ARC.