Review: Just One Day by Gayle Forman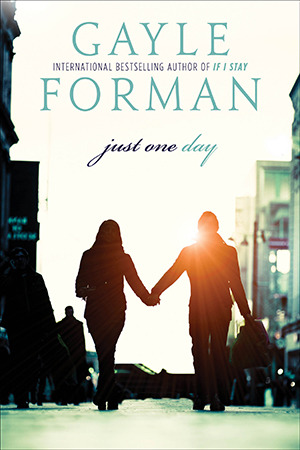 Allyson has always lived a predictable life. Intelligent and from an upper middle class family, she has done well at school, been accepted into a good college and now she is on a whirlwind tour of Europe with her best friend Melanie, a gift from her parents. Then by chance, Allyson encounters a group of actors and finds herself smitten with Willem, a charismatic young actor who has been drifting through Europe for the past two years. He convinces her to spend a day with him in Paris, a day which ends in heartbreak for Allyson. Over the next year, her experience causes her life to unravel and come back together in the most surprising of ways, until she decides to return to Europe and track down the man who broke her heart.
Funny, sad and ultimately hopeful, this is a near perfect coming of age story about a young woman who has been too afraid to live life on her own terms until she is more or less forced to. Allyson is a sympathetic character, a young woman who wants to please her parents and live up to their expectations, but who is also beginning to realise that the life they want for her may not be the one that she wants for herself. And the story with Willem is quite intriguing, as is that ending.
Initially, I wasn't sure how I felt about this story, as I assumed that it was going to be quite painful, but the author cleverly weaves in seeds of hope along the way. There is a sequel, focusing on Willem and his experiences after he and Allyson parted company in Paris, which I hope to read soon.
Highly recommended.