Review: Before I Let Go by Marieke Nijkamp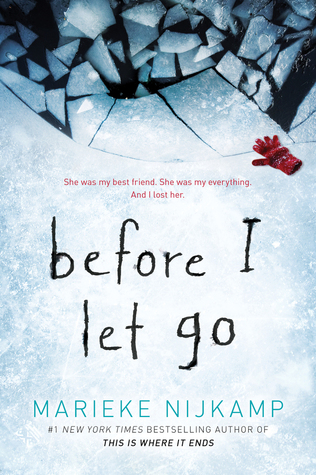 Corey and her best friend (and possible soul mate,) Kyra didn't really fit in with the other kids (or the adults,) in Lost, a small and isolated community in Alaska. For Corey, it was a huge relief when her mother found a good job in Canada and she was sent to a prestigious boarding school, where she felt accepted. Kyra was left behind, but Corey knew that she would visit her friend soon. Then, shortly before Corey was due to visit, Kyra dies. What Corey finds when she descends upon Lost for the funeral is most certainly not what she expects.
Told from Corey's perspective, Before I Let Go weaves between the past and the present to tell the story of a closed community and the devastating effect that their views have on a young woman who is suffering a mental illness. All signs of morality go out the window as the town fights to save their vision of Kyra as a kind of prophet and their belief that her entirely preventable death was meant to be. Meanwhile, Corey is in great danger as she fights to find the truth.
This was an engaging novel, told with bucketloads of empathy. Corey and Kyra are not typical teenagers and their experiences--Corey is asexual, while Kyra is pansexual and also suffering from bipolar disorder--serve to isolate them from their small and judgemental community.
There is also a strong moral to how one individual should not have to suffer in order to serve the needs of the wider community.
Recommended.