Review: Wonder by RJ Palacio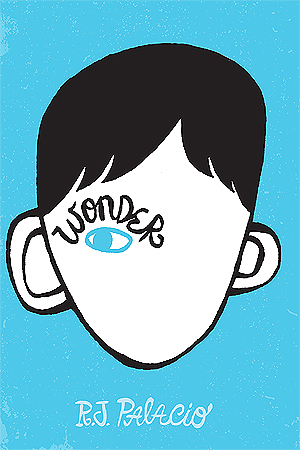 Wonder received much acclaim when it was initially published back in 2012, which inevitably led to a number of shorter sequels/companion novels being published and possibly some other tie-in merchandise, so it is a bit of a mystery how I managed to not hear of this one at all, until a few weeks ago when I was in Big W and found it on one of those Kids Top 50 Books shelves. Intrigued, I brought it home and then I found myself charmed and occasionally unsettled by this story of Auggie a boy who was born with a severe facial disfigurement. It's also the story of a number of other young people--some kids, some teenagers--who are touched by Auggie in some way. All of the characters have their own problems in one way or another, whether it be a parent's divorce, a first love, feeling unnoticed by their parents or peer group pressure. The narrative is honest, occasionally unnerving and sometimes it made me feel sad. And sometimes I felt that the whole thing was a little bit condescending.
The main plot is about Auggie and how he attends school for the first time. He's ten and in fifth grade, which in his school district signals the beginning of middle school. (This surprised me. I had believed that in the United States kids usually started middle school in sixth or seventh grade, depending on their school district.) Anyway, the school principal is sympathetic to the difficulties that Auggie may encounter transitioning into the school system, and enlists some kids to help him. But not every kid is nice and the transition is tougher than Auggie and, perhaps anyone else, expects, though he comes out okay in the end.
The other plots are shorter. The narrative gives a few chapters each to some of the other characters, Auggie's sister Via who is just starting high school, Via's boyfriend Justin and Via's former best friend Miranda. Auggie's friends Jack Will and Summer also narrate a few chapters. Each has their own problems and story, but this is Auggie's book, so their stories also include him in some capacity.
This one is an enjoyable read, though it is sad in places.
Recommended.