Review: Harry Potter and the Cursed Child by JK Rowling, Jack Thorne & John Tiffany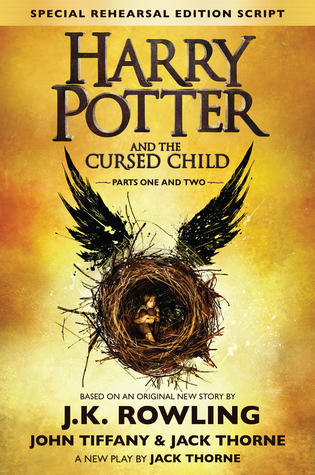 We all remember the ending of Harry Potter and the Deathly Hallows that brought the beloved character back to platform nine and three quarters as he saw his two sons, James and Albus off to Hogwarts. It was a great ending to the series, but what lay in store for younger son, Albus Severus Potter? A new stage play, which recently opened in the UK, tells the story of Albus and his difficult relationship with his father, who is now nearing middle age. And luckily for fans across the globe, the script from the play has been published, meaning that we can all enjoy this story without having to wait for it to be performed locally.
The play works on two levels. On one level it is a coming-of-age story set in the wizarding world, where through a dangerous and gripping adventure involving time travel, Albus struggles to come into his own, and to be a wizard in his own right--one who separate from his father and the two important and famous wizards that he was named after, and who has his own strengths. Albus struggles with popularity, being placed in a different house from his siblings and having a best friend who no one else approves of. His lack of self-acceptance affects his growth and education, as well as his relationship with his father--which brings me to the second level to the story. It has a lot to say about father-son relationships, and how children can be very different from their parents. Albus is a different character from Harry, with his own set of strengths (even if he cannot see it until the end.) Likewise, we see the relationships between Draco Malfoy and his son Scorpious, who are also both quite different, and the story touches upon how Draco was quite different from his own father--just as how the later books in the Harry Potter series touched upon the fact that Harry himself was a very different person from his father. (James Potter was shown to be popular, over-confident and something of a bully where Severus Snape was concerned, though he grew out of his less desirable qualities, presumably his time at Hogwarts had a profound positive influence on him.)
Of course, parts of the story belong to Harry and talk of his love for his son, and his struggle to be a father to three children when he grew up without his own father. And his own magical abilities, and part in Albus's adventure, of course.
Overall, I thoroughly enjoyed reading this one, and would be keen to see the play on stage if it ever comes to Australia.
Highly recommended.