Review: The Mountain Story by Lori Lansens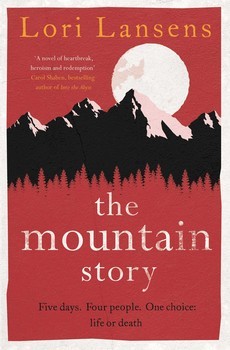 The Mountain Story is a surprising--and unlikely--tale of survival and the triumph of the human spirit. Opening with a letter from father to son, it tells the story of Wolf Truly, a young man who travels to the top of a large mountain peak in Palm Springs with the intention of never coming home. Along the way, he finds himself on a mission of survival with three very different women, who are on a mission of their own and who have their own interesting life stories. Over the course of five days, while they brave the elements and impossible situations, Wolf and the others reflect on their lives and make some surprising discoveries about themselves.
I picked this one up from my reading pile, not quite sure of what to expect. What I got that was a story of a young man who is not only battling the elements and the most unlikely of circumstances, but an abundance of believable human drama. Wolf's own family story is heartbreaking, while it was lovely to read about Nola, Bridget and Vonn slowly work out their differences, and discover a better and healthier amount of respect for one another. The final parts of the book are quite touching and there are some questions raised about what makes a family.
Although aimed at adult readers, I think that The Mountain Story would also appeal to advanced teenage readers for some of its themes about family and coming-of-age under trying circumstances.
Thank you to Simon and Schuster Australia for my reading copy.