Review: Ramona Blue by Julie Murphy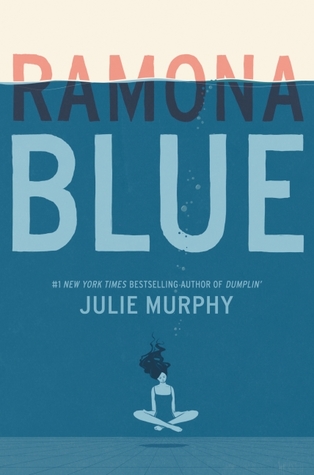 Ramona Blue is a rarity, a young adult novel that dares to suggest that sexuality may be more fluid than what most people know or understand. Ramona, nicknamed Ramona Blue because of her blue hair, lives in a trailer with her dad and older sister in a beachside tourist trap in Mississippi. To suggest that the family has not had much luck might be a bit of an understatement. They lost their home in Hurricane Katrina, and were subsequently ripped off by their insurance company, Ramona's mother left them because she didn't want to live in a trailer (and is now an alcoholic who works at a casino,) and Ramona's sister Hattie is pregnant to a guy who may as well be a leech. Still, Ramona loves her Dad and sister and works hard to make life more pleasant for them. The novel opens with Ramona saying a sad good-bye to her girlfriend, who is a tourist that was visiting town for the summer. It's a sad day, but one that is made better by Ramona encountering Freddie, her childhood friend, who has just moved to town permanently with his grandmother and his grandmother's new husband. The pair bond over their childhood friendship, the fact that they are both now in long distance relationships (and both eventually have their hearts broken,) and a love of swimming. And then, something surprising happens. They fall in love. This wouldn't be a big deal, if it weren't for the fact that until then, Ramona had been certain of one thing--that she was attracted to women. As she navigates this new relationship, she knows that she is still attracted to women, but she also knows that she is attracted to at least one man--Freddie. Ramona struggles with telling her family and friends (all of whom have been cool with her sexuality,) and her identity, but she eventually comes to a place of understanding. The novel ends on an optimistic note and I think that the whole thing was very well done.
I enjoyed reading this one, and enjoyed having my views on sexuality challenged. This isn't a novel where bam, suddenly the main character isn't gay anymore, but rather a story where someone discovers that attraction can be a very complex thing. In Ramona's case, being attracted to Freddie and being in an exclusive relationship with him does not invalidate her previous relationships or her identity.
Ramona Blue is not available in Australia yet, but I was so keen to read this one that I ordered a copy from the US. (This led to the further benefit of me being able to buy a hardcover copy. Hardcovers are few and far between in Australia--due to high manufacturing and transport costs only the biggest and most important releases have a hardcover edition.) I'll be happy to mention a local publisher if or when that information becomes available--I know that Penguin Books Australia has published some of Julie Murphy's novels in the past, but I cannot see anything on their website to suggest that they will be adding Ramona Blue to their list any time soon.
Anyway, this one is well worth a read if you feel like having your views challenged. Recommended.