Review: Turtles All the Way Down by John Green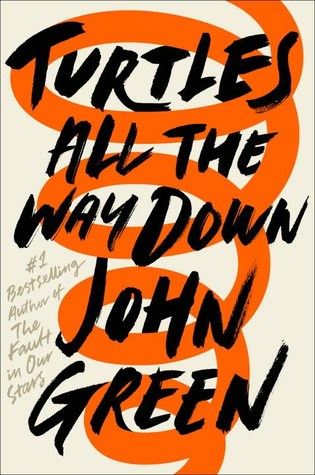 The latest Literary YA offering from John Green starts off strong, and ends on a depressingly real note. Aza Holmes is sixteen years old and is basically a good kid. She tries hard at school, gets along well with her best friend Daisy and loves her Mum, who also happens to be a teacher at her school. (Aza's Dad died a few years earlier.) Aza also happens to have anxiety. Aza and Daisy get caught up in a missing person's investigation--the father of Aza's childhood friend Davis has gone missing--and she learns a few important lessons about life, and managing her mental illness along the way.
This is a difficult book for me to review as I very much enjoyed the opening chapters, and the realistic depictions of what it is like to be living with a mental illness. The reader travels with Aza through her obsessions, thought spirals and how she navigates her first relationship when her illness threatens to get in the way. I also liked how the author showed the impact that Aza's illness had on Daisy, and how their friendship can suffer for it. (And Daisy certainly had an interesting outlet for her feelings.) Less strong was Aza's relationship with Davis--there wasn't a lot of chemistry there and at times, it seemed that Davis really only put up with her for lack of somebody else. Then again, Davis was also a kid who had not been raised in a loving household, so maybe it was difficult for him to accurately depict his feelings, hence why his secret blog contained so many metaphors. Overall, though, the Davis/Russell Pickett story felt somewhat hollow to me. And, as is the case with much of Green's work, there is a lot of intelligent teenage philosophy in there as well.
Green's strong point is his depiction of mental illness and his depiction of Daisy as a strong and likeable character.
Recommended.