Review: Captive Prince by C.S. Pacat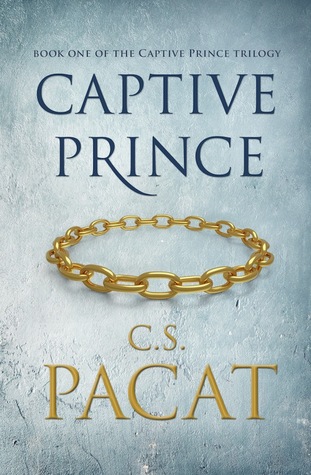 Captive Prince is one of many, many success stories about a book published online that amassed a huge following and was eventually picked up by a major publishing house. Initially published by Gatto in 2013 it has only recently made it on to the Australian market, and is being published by Penguin. And, it was at about this point that the book caught my attention, when I saw it reviewed as 'a gay sex slave political fantasy thriller.' Intrigued to know what kind of a book could inspire such a title, I found a copy at my local QBD and set about reading it.
And to set the record straight, Captive Prince is indeed a gay sex slave political fantasy thriller. It begins with the capture of Prince Damianos, the rightful heir to the throne, who is betrayed by his evil half brother and gifted to the prince and heir of a rival kingdom as a slave. In this neighbouring kingdom, nothing is as it seems and Prince Damianos, now known as Damen, eventually finds himself making an unlikely alliance with his mysterious and manipulative captor ...
To be honest, I was a bit ambivalent about the first two hundred or so pages in this book. What different people find erotic is a highly subjective thing and it really did very little for me and nor did I find some aspects of the plot terribly interesting. However, toward the end, when the novel became more action packed and about politics, and I got some greater indication of that some key characters may not be all they seem, I found myself becoming a lot more interested and involved in the plot, to the point where I will most definitely consider reading the second book in the series, which has just been published in Australia.
Although not the perfect book for me, this will probably appeal to readers who are looking for a very different kind of erotic romance.